To Click the Area of Your Destination!
Please click on the area you want to send to, and the appropriate shopping basket will appear. And please be careful not to click on wrong area. If you click wrongly, then please go back to former page and click again on the correct area.
[Destination Area Map]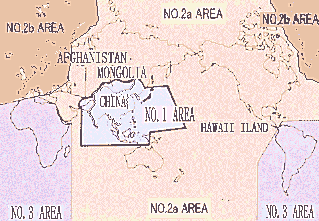 ※Transportation charge-EMS postal charge- will be added to the total amount automatically making the ground total.
※-----※PLEASE NOTE※-----※

You can sellect another method of transportation called "Registered Small Packet SAL Post" which is cheaper but a little slowlier to reach the destination, slower a week or so, than EMS Post. For example, one piece mug (e.g. FH528) cost at US$7.20 and one set of Cooking Ware Set (e.g. CW001) cost at US$9.00 to the U.S.A..

If you prefer SAL to EMS, please contanct us by writing "SAL" down in the comment column at the bottom of the shopping basket' order form. We will advise you of shipping cost in return for it.